What to Do with Your Economic Impact Stimulus Check
Published: 12/29/2020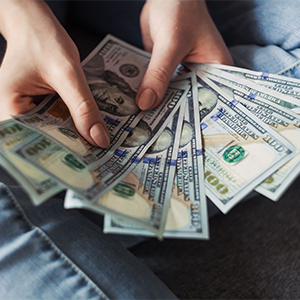 Economic impact payments are set to hit consumer accounts soon, with the IRS direct depositing funds for millions of Americans once again. So what should you do with this extra money? Here are some ideas.
If you're still working and do not have a rainy-day fund: Save your stimulus check. A rainy-day fund, or sometimes called an emergency fund, should have a minimum of three-month's worth of living expenses in it. That includes making your mortgage or rent payment, utilities, car payments and necessities like food. A better goal is six-month's worth, but if you still need to hit that three-month mark, it's best to stash the cash you're getting in a savings account.
If you're still working and have a rainy-day fund: Spend your stimulus check. This was the intent of the program, after all, so if you're in a comfortable financial position then now is a good time to shop. For maximum benefit, support the local small businesses you love most. Chances are they need the help. You could also consider donating some or all of your check. Food pantries or organizations that support senior citizens are seeing an increase in need to help those in the community, so a donation could help support others who are struggling.
If you are out of work: Use your stimulus check to cover your essentials over the next few months. Federal unemployment benefits are at an all-time high, but the extra cash could certainly help if you're waiting for those benefits to kick in. Many lenders are offering deferred payment options, so take advantage of these if you feel like making loan payments may become difficult.
As with any major financial matter, it's important to consult a tax advisor. The IRS has created a website to help facilitate the economic impact payments, which you can find here. The site can also help determine how much money you can expect to receive and the status of your payment.
If you have any questions, or would like to open a checking or savings account, please visit us online at gbankmo.com or give us a call toll-free at 1.833.875.2492.
View all posts